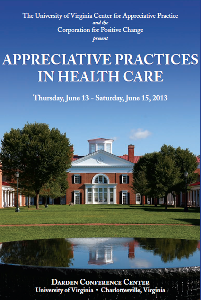 Although this conference will be held in the US, it may also be of interest for members of the Australian AI community.
Registration is now open!
Please join us in beautiful Charlottesville,Virginia, for this conference jointly sponsored by the University of Virginia Center for Appreciative Practice and the Corporation for Positive Change, to be held on the grounds of the UVA Darden School of Business, June 13-15, 2013.
About the Conference
This conference will feature the expertise of Dr. Diana Whitney, an internationally recognized expert in the field of Appreciative Inquiry, and the faculty of the UVA Center for Appreciative Practice who have emerged as leaders in adapting Appreciative Practices to the field of health care. The highly interactive format combines presentations, panel discussions,illustrative activities and skill building sessions and allows for significant interaction with the expert faculty.
Participants will receive real-time feedback while learning skills that can be applied immediately,providing an ideal venue for individuals or professional teams to envision the application of Appreciative Practices to their own work environments with guidance from seasoned professionals.
About Charlottesville
Charlottesville is a beautiful historic destination. Many area cultural and recreational attractions are easily accessible from the conference location including Thomas Jefferson's University of Virginia and Monticello, James Monroe's Ash Lawn, the vibrant Downtown Mall and the Blue Ridge Mountains.
Registration
$895 for healthcare professionals
$450 for residents/fellows (graduate medical trainees).
More Information
For detailed brochure and to register, please visit the CME website and  click on Conferences and Symposia > June.
(This meeting has been accredited for 15.5 AMA PRA Category 1 creditsTM).
We sincerely hope that you will join us for this exciting and educational symposium, and look forward to seeing you in June!
The UVA Center for Appreciative Practice & the Corporation for Positive Change
Contact Information
Katharine Schlag
University of Virginia
School of Medicine
Office of Continuing Medical Education
P.O. Box 800711
Charlottesville, VA 22901 USA
Tel: 1-434-924-9387
Email: kas3b@virginia.edu
or kas3b@hscmail.mcc.virginia.edu