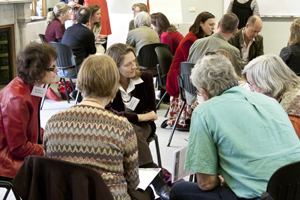 Five main areas emerged as design elements for moving forward and possible action/activity. It was acknowledged that all five are interconnected, that there are 'overlaps' between them, and that  Purpose and Values essentially underpins all other areas.
Purpose and Values
Internal – relate to each other
External – relate to the world
Inclusivity – welcome all comers
Offer AI to the world
Modelling AI principles
Promote research
Sharing AI related stories
Sharing, developing knowledge and experience
Harnessing strength, power of numbers –> credibility
One participant from the group discussing 'purpose and values' also submitted the notes she had taken. Read them here.
Structure
Support learning and purpose
Informal network
Start small – grow later
Small coordinating group that changes frequently
Face to Face
Annual conference (or 'festival')
Workshops – sharing and working on case studies
T3/Mentoring/Buddy –> building capacity (Pro bono)
Skills bank (pro bono)
Cross-share forum – separate or with strengths based
Place/Space of Learning
Spirit
Stories from the field
Self-sustaining
Fresh and dynamic
Safe and open
Online/Virtual Community
Range of options
Existing avenues: Facebook, LinkedIn, AI mailing list, YouTube, Twitter
New avenues possible: eg website, Ning, online community