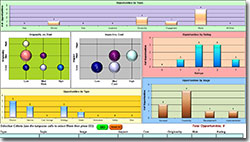 Appreciative Inquiry is great way of distilling new ideas from employees in any organization. However, what do you do with those ideas once you have encouraged them to come to the surface?
How can you record, sort, prioritize and track them in a way that keeps them in people's minds and moving forward to realization?
We been working on this and I'm pleased to say that earlier this month we released our innovation portfolio tracking tool.
This little piece of software brings rigor and transparency to your organization's innovation efforts. When you look at your organization's current set of innovation opportunities from a portfolio perspective, you can easily determine where next investments should be placed.
The tool will help you answer the following questions:
Are we taking enough risk or betting only on incremental "sure things"?
Are we pursuing original ideas or just following others?
Do we have any high-impact ideas under consideration?
What aspects of our product/service offerings are not currently being innovated?
How healthy is our pipeline, in terms of innovations moving from concept through to development?
Innovation Portfolio Tracker is in Beta release at the moment. We are looking for people who would like to try it out and give us some feedback. For your efforts, you will qualify for free updates for two years. I encourage you to find out more by visiting our Innovation Portfolio Tracker blog.
By: Leslie Allan